Doypacks
Fully customizable doypacks with every material, size and sealing option for your product. Perfect for food, coffee/tea, supplements and cosmetics.
Full-surface printing
Full-surface printing
High-quality prints over the whole doypack. Matt or gloss finishes available.
Tailored design
Tailored design
Huge choice of materials, styles & sizes, from doypacks with windows to aluminium pouches.
Freshness guaranteed
Freshness guaranteed
Seal your products with a choice of zip-lock or heat-sealed closures.
Reviews
See what our customers say
Sample packs
Sample packs
Try before you buy. Select up to 5 samples and test different types of packaging, materials and sizes. Order a sample pack and get your money back with your first order.
Order now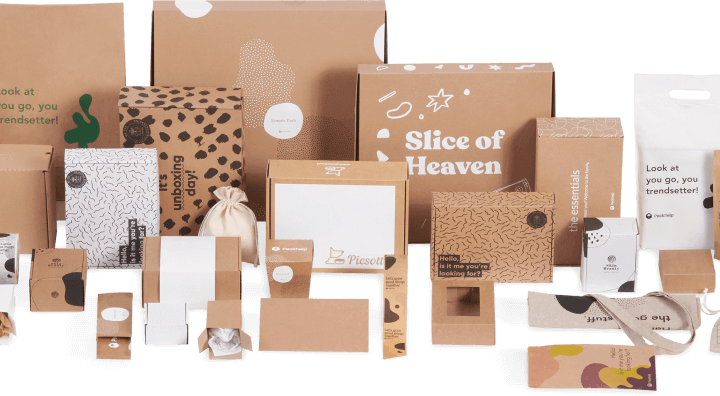 Material
PAP, PET 12, PE 100, PE MDO 25 gloss/matt, ALU 8, BOPP, PLA 80, NTSS, NatureFlex and more.
Material colour
No colour
Standard Brown
Standard White
Grammage
Dependent on material
Sealing
Zip-lock & heat-sealed
FAQ
What can I pack in these pouches?
Doypacks are a very versatile form of packaging. Apart from tea & coffee packaging, they're also great for:
Health & beauty: scrubs, shampoo, lotions, liquid soap and other cosmetics. Perfect for refills.

Supplements: vitamins, oil capsules, protein powder and more.

Food & drink: fruits, nuts, cereals, dairy, herbs, spices, cured meat, smoothies, juices and even frozen food.

Pet food: dry and wet food.
Every doypack design and use is different, so it's best if you tell us a little bit about your product during the quoting process and our packaging experts can advise you on your options, including the suitability of each material for your products.
What materials are available for these doypacks? How thick is the material?
Your doypacks can be made from paper (e.g., kraft paper), BOPP film, aluminium (ALU), standard PE (Polyethylene) plastic, PP (Polypropylene) and PET (Polyethylene terephthalate) thermoplastic, along with bio-based films like Nativia (NTSS) and NatureFlex cellulose film. These materials are often combined to form a multi-structure, such as a PET/aluminium combination. The thickness will be determined by the material you select. But everything is based on the contents of your packaging. Each product requires different protection, resistance to UV radiation, oxygen and oxidation. Certain materials are therefore more suited to different products – e.g., cosmetics vs frozen food. So, it's best if you tell us a little bit about your product during the quoting process and our packaging experts will provide a tailored solution for your product.
What is the shelf life of these doy bags?
It depends on the material you select, along with the type and dimensions of your product to be packaged. But as a general guide, the shelf life for plastic-based and aluminium structures is around 1-2 years, while this time can shorten to 6-12 months for bio/compostable options. Reach out during the quoting process and our packaging experts can advise you on your options and the durability of each.
What colours are available?
These doypacks get their colour from two sources: base material and print colour. In terms of materials, you have three colour options: white, transparent and brown. But with full-colour printing, you can have the whole surface of your doypacks printed in just about every colour from the CMYK palette. For example, the black doypack featured on this page can be created by printing on a white base material in black across the whole surface and silver for the design. As simple as that!
How are these doy pouches sealed? Can I order mine with screw caps?
Our doypacks are designed to be heat-sealed after packing. In terms of openings, you can either request a tear-away lip at the top or a resealable zip-lock opening. Plus, as add-ons, you can add valves and vents to keep your goods extra fresh. You can order your doypacks with screw caps, but to be cost-effective, the order quantity needs to be quite high. Just reach out during the quoting process and our packaging experts can take you through all your options.
Yep, but it might not be in your exact size. Why? The production process for doypacks is much more complex and extensive than for other forms of packaging. Each change in variables, including sizing, requires a recalibration of the whole production line, which is a time-consuming and costly process. But for this reason, we keep a large inventory of samples with different dimensions and structures to suit a wide range of products. Reach out during the quoting process and our packaging experts will be able to arrange for a sample to be shipped out to you that best matches your requirements.
Is this type of packaging more expensive than other forms?
It depends. Doypacks are made from advanced and high-quality materials, which involves a complex production process. Each calibration of the production line takes time and money. Food packaging also requires special production techniques and food-safe certification. Similar to production, the cost of the flexographic printing process is largely determined by batch quantities. The lower the quantity, the higher the price. As a general guide, the pricing becomes very competitive with order quantities above 60,000 pieces. Get in touch during the quoting process and our packaging experts will take you through all your options and costs, as well as find an optimised solution for you. Alternatively, check out our Stand Up Pouch with Label.
What is the minimum order quantity?
Orders start from 5,000 pieces per order.
Subscribe for promotions, special offers and news from the packaging industry.
Great!
You're now subscribed!