9 Practical Ecommerce Shipping Best Practices to Follow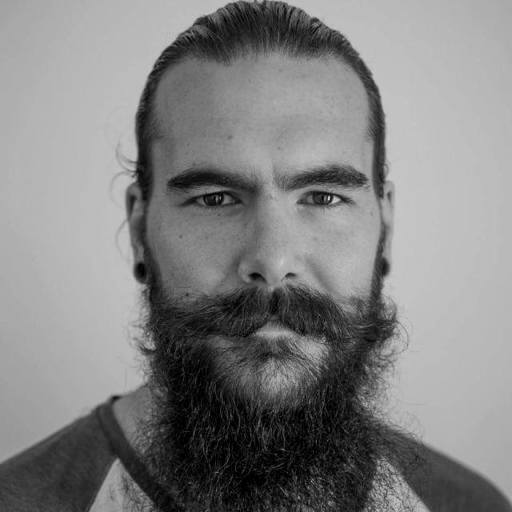 Phil Forbes | 5 min read
Subscribe to stay updated
Great!
You're now subscribed!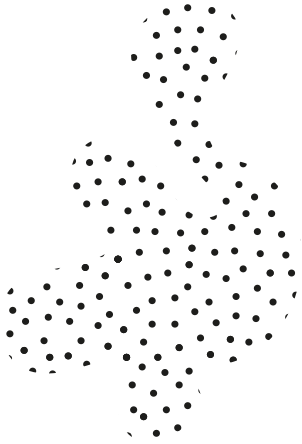 If you had to nominate the king of eCommerce, it would be Amazon.
It's an amazing company that's set a high industry benchmark for customer satisfaction.
One of the key differentiators they pursue is fast shipping.
Over the years, Amazon has set ambitious shipping targets. They pushed for three-day delivery, two-day delivery, and then same-day delivery.
Just think about that for a second.
You need to compete with a company that can deliver a product from their warehouse to the customers' door on the same day.
That's great for the customer but a hard act to follow.
Many eCommerce companies, including global firms, struggle to compete with Amazon. They just don't have the infrastructure to deliver goods to their customers as fast as Amazon can.
It's one of the many reasons the company has grown so fast.
Yet, you shouldn't lose hope.
This guide will discuss some of the eCommerce shipping best practices you should be using.
You'll also learn how to implement these best practices at your business. 
Here are a few of the things you'll discover in this guide to eCommerce shipping best practices:
Why you need to create a shipping team, and how that shipping team will make you money.

Learn how to create a shipping strategy and how to benchmark your progress.

Discover if multi-carrier shipping is right for your business.

Learn how to keep your customers happy using Amazon's customer retention strategy.
That's just a snapshot of what you'll learn. Read on to discover 9 ecommerce shipping best practices that will help you wow customers and grow your business.
Create a shipping team
The best way to improve any element of your business operations is to make someone responsible for kicking ass.
When you assign responsibility, you create accountability.
In a nutshell, that's why you need a shipping team. 
Ecommerce shipping is something that crosses multiple business departments. How you ship your goods impacts expenses, operations, sales, marketing, and customer support. Ideally, your team will have representatives of each department.
At a minimum, it needs to have a senior project manager on board.
The shipping team should meet regularly and set realistic goals. They also need to track progress and share the results with the company founder or board.
Competitor analysis & benchmarking
Before setting company goals, you need to see how you compare against the competition. That involves conducting competitor research and setting internal benchmarks.
Let's cover competitor research first.
You like to think you're fantastic. I happen to think you are right.
However, that doesn't mean potential customers recognise your awesomeness (is that even a word?).
That's why competitor research is important. It helps you understand how people perceive your company and what you can do to create a better impression.
Let me give you an example related to eCommerce shipping.
Imagine…
One of your biggest competitors is Mediocre Incorporated. They charge customers a premium for shipping. It takes an average of five days for them to deliver products from their warehouse to the customers' door. 
Most people will think twice before turning to Mediocre Incorporated.
On the other hand, Superstar Limited provides free shipping on all products. They take an average of two days to deliver products from their warehouse to the customers' door.
I'd probably buy something from Superstar Limited.
Competitor research helps you understand how you compare to other businesses in your niche.
Spend time researching your competition. Make test purchases to see how quickly they deliver to your door. See how much they charge, etc.
There are many different ways to conduct competitor research and analysis. One model that I recommend is a SWOT Analysis.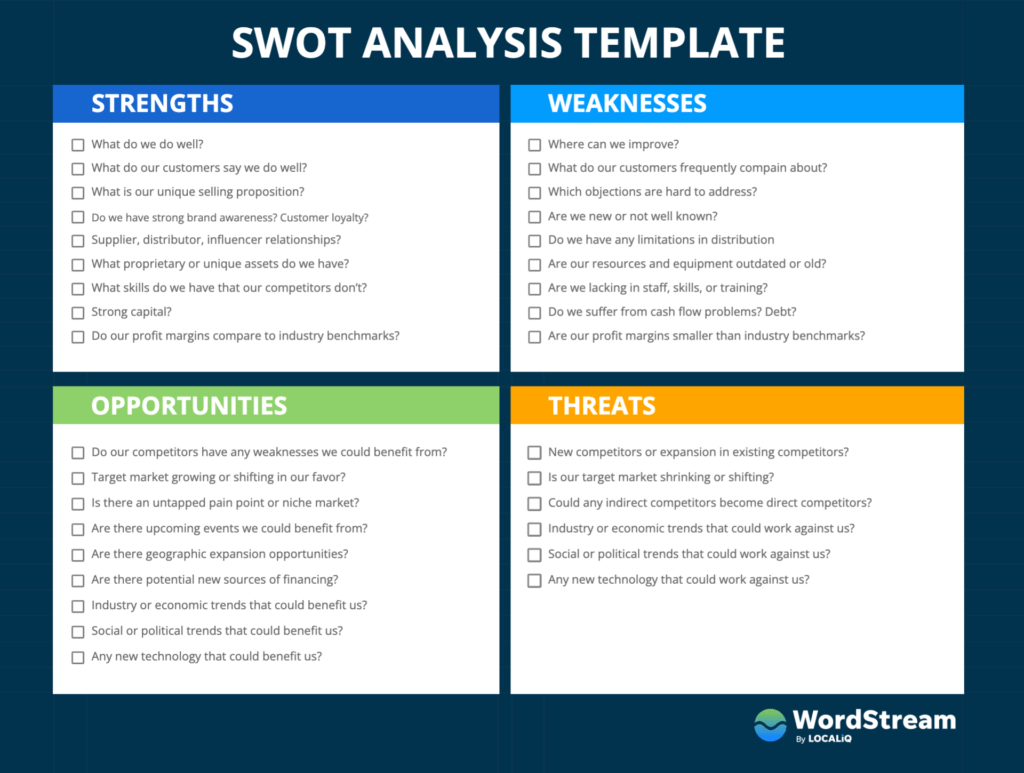 Source: Wordstream
SWOT Analysis stands for Strengths, Weaknesses, Opportunities, and Threats. You can use a SWOT analysis to compare your eCommerce shipping against other companies.
Next up is internal benchmarking.
It's important to set benchmarks in business. Benchmarks help you assess your current performance. Before developing your eCommerce shipping strategy, you need to assess how you're currently doing.
You will want to know, for example:
What is the average customer delivery time?

What is your refund rate due to damaged goods?

How much does shipping a product cost on average?

How much do you spend packaging a product on average?
You get the idea.
Spend time conducting competitor analysis and benchmarking. Once you have gathered the relevant data, get your shipping team to set realistic goals.
Keep in mind that benchmarking and competitor analysis are continual processes.
At least once a quarter, set aside some time to review the competition. Benchmarking to assess your performance against your goals needs to happen more frequently.
Set realistic SMART goals
This is the fun part; it's brainstorming time.
Your shipping team needs to develop a plan to improve and monitor shipping.
You need to identify all the ways you could improve shipping. Next, you need to decide which things will provide the most value.
 Here are some important things to consider when assessing the options:
How much will it cost to implement the policy?

How difficult will it be to implement?

What benefits will customers get?

What benefits will your company get?
I recommend grading each idea against those questions. You can give a grade from 1 to 5. Five is easy to do/ provides the most value. One is difficult/ provides little value.
Rate each idea. Then, tally up the scores.
You can use those insights to rank the strategies that move the needle.
Next, set realistic goals to achieve your targets. It's good practice to use the SMART approach. SMART goals are Specific, Measurable, Achievable, Relevant, and Time-bound.
You must do more than work hard and hope for the best for your business.  
The goals you set should be motivating, not discouraging. You want targets you can track and quantify to assess how you are performing.
You can see the difference between a SMART goal and a bad goal below.
Reduce average shipping time from three days to two days by January 1.

Improve shipping times
Failing to quantify what "improve" means sets you up for failure.
Single carrier vs. multi-carrier
If you run a small to medium-sized eCommerce business, you will rely on your carriers to deliver products to your customers.
Consequently, one of the most important decisions you need to make is which carrier to use.
Take the time to compare different carriers.
The carrier you select will depend on the needs and goals of your business. Important factors to consider include:
Type of product to be shipped

Pickup and delivery locations

Tracking service

they provide

Package's weight and dimensions

Desired delivery time

Do they exclude certain items

Do they provide insurance
Compare the different carrier options. Some eCommerce stores will pick a single carrier. Working with a single carrier is easier. You only have to deal with one company and have more negotiating power.
The trade-off is it increases risks. After all, you're sending all of your goods to one company.
A single carrier might also be more expensive than a competing carrier for certain things. Or, they provide fewer services than a competitor.
Take the time to decide if you want to use a single carrier or go with the multi-carrier option. Decide which eCommerce shipping approach makes the most sense for your business.
Be transparent about shipping costs
The cost of shipping has a huge impact on people's purchasing decisions. Expensive shipping and slow delivery times generally result in high cart abandonment rates. In an attempt to generate sales, some companies hide shipping costs.
As the graph below reveals, this strategy doesn't work.
Source: AddThis
You need to be honest with your audience about what they can expect from your company. That means sharing the cost of shipping and highlighting delivery times.
Being transparent in your pricing and process helps generate trust.
For example, you could explain you provide slow shipping because it saves the customer $50. Customers that want faster delivery and can't wait can pay for quicker shipping.
As long as you provide a good service, potential customers will be forgiving. What people don't like is feeling deceived.
Free shipping vs. expedited shipping
If you want to blame a company for making eCommerce shipping a hassle, blame Amazon. The company pioneered free shipping and expedited delivery. Customers love them for it.
Free and expedited shipping will cost your business more money. Implementing these policies at your company might boost company profits, though. The key to identifying those opportunities is assessing where the opportunities lie.
Review the cost of shipping and your profit margins for different goods. Make sure to look at order volumes too. For example, if you were sending 1,000 units a day, would you make a profit.
Taking a long-term view might mean risking losing money now, growing faster, and making a profit later. That's what Amazon does. This analysis will help you identify under what circumstances you can offer free or expedited shipping.
Once you have your data, you can run tests or simply implement strategies that benefit the customer. After all, anything that improves the customer experience generally promotes long-term growth.
Choose & optimize your packaging
Another critical factor when considering eCommerce shipping best practices is the packaging. You can use many types of packaging to protect items during shipment and storage.
The packaging you use needs to be suited to your items and budget.
The packaging needs to provide a snug fit to the product you're selling.
The reason for this is straightforward; major carriers charge you according to the weight and size of your package. Below is the dimensional weight formula they use to calculate costs.
Source: eFulfillment Service
Optimizing the packaging dimensions for the products you are shipping can reduce package costs and shipping costs.
Of course, you want the product to arrive at the delivery point intact. That means providing sufficient padding around the product in the form of void filler.
Value engineereed packaging can help further lower shipping costs. It's the process of designing packaging from the ground up for a specific product, minimising the amount of material used, while maximising security.
Use nice packaging
The design of your package and how it's presented can have a huge impact on a customer's initial impression of the product. Need proof of this?
Check out one of the unboxing channels on YouTube. Many of these channels get tens of thousands of views per video.
Effective package design will aid your marketing efforts.
It appeals to customers and offers a memorable customer experience, as well as acting as an extension of your company's identity. In that sense, it's a marketing channel.
Consider investing in personal touches too.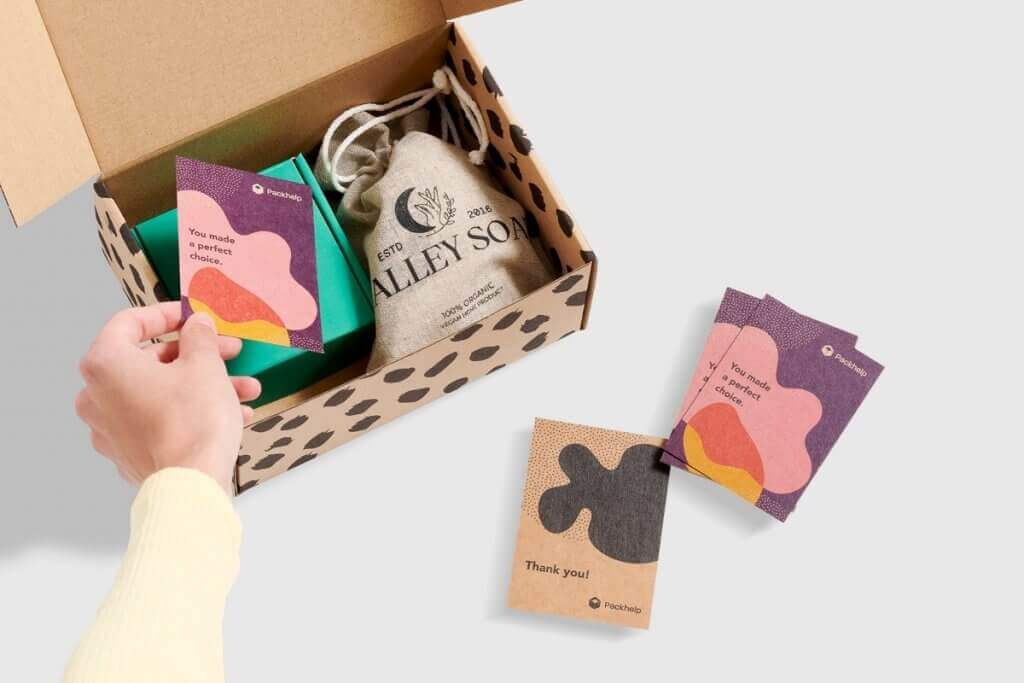 For example, including a handwritten letter with a product is a great way of saying thanks for trusting us with your hard-earned money.
Have a great return policy
Returning products is a pain. You often need to deal with customer service, explain why you need to return the product, and actually send the product back. It's no surprise many people hate the process.
A fair return policy is a great way to reduce that friction. It also helps you build trust with your customers.
Your return policy should be simple to understand, with clear rules, restrictions, and allowances. For instance, customers need under what conditions they may return items. It's also a good idea to create a return process for your customers. 
KAY, for example, includes instructions on how to return things on the return page.
Source: Kay
Providing clear instructions is great. You can make the process of returning goods easier by providing free return shipping.
Your customers will appreciate you doing small things like this. It leaves a good impression, which can translate into glowing customer testimonials.
Wrapping up
Shipping is a critical part of any eCommerce business. Shipping is where you cross that divide between the digital and the physical. You must get it right because your shipping policies leave a lasting impression on your customers.
About the author:
Nico is the founder of Launch Space.
He started the business so he could get more freedom, but now spends most of his time in an office. Launch Space helps SaaS companies level up their content marketing.