Book Mailer
Easy-fold mailers and book wraps with custom prints and sizing. Wrap, seal and safely ship books, photo frames/albums and more. 90% recycled content!
Eco shipping
Eco shipping
90% recycled cardboard and fully recyclable after removal of adhesive strip.
Easy wrap assembly
Easy wrap assembly
Pre-scored seams, adjustable book holder and self-adhesive tear open strip.
Safe postage
Safe postage
Triple-layer corrugated cardboard, from 360 to 480gsm.
Reviews
See what our customers say
Sample packs
Sample packs
Try before you buy. Select up to 5 samples and test different types of packaging, materials and sizes. Order a sample pack and get your money back with your first order.
Order now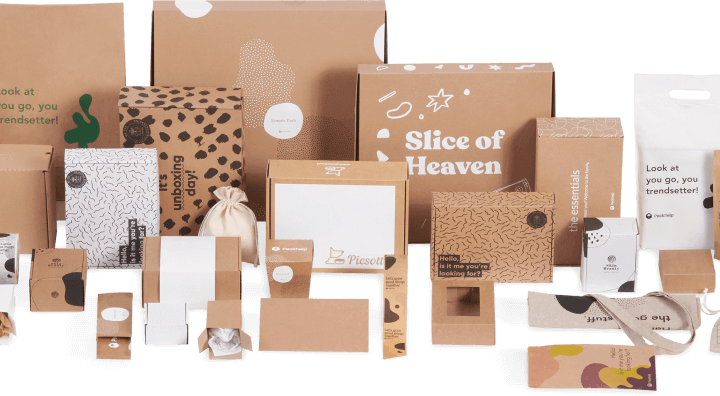 Material
Corrugated fiberboard E (3-layer), B (3-layer)
Material colour
Natural Kraft
Standard White
Printing process
Flexographic Printing
FAQ
What can I ship in these mailers?
Don't be misled by the name. With custom sizing and the adjustable internal holder, these book wraps will also securely deliver vinyls, video games, DVDs, Blue-rays, CDs and of course, books of all sizes.
You betcha. Just place the book in the centre of the adjustable holder, close the holder flaps, fold the main side flaps and seal with the self-adhesive strip. That's it. No taping required.
Can I print on these book mailers?
Yep. The standard printing option for these mailers is flexographic printing in black. But as an add-on, there is also a possibility to print your book-wrap mailers in multiple colours or even full colour. Just reach out during the quoting process and our packaging experts can take you through your printing options.
Are there any standard sizes for these book wraps?
Nope. Sizing is fully customizable. Just supply your desired dimensions during the quoting process and our packaging experts will take care of the rest. Tip: if you're using Royal Mail to post your goods in the UK, keep in mind that the max size for a Large Letter is L 35.3 x W 25 x T 2.5 cm and L 45 x W 35 x T 16 cm for a Small Parcel. In this case, the best sizes at Packhelp are:
Royal Mail Large Letter = F46 L 19.4 x W 24.5 x T 2.2cm
Royal Mail Small Parcel = F93 L 33.9 x W 44 x T 15.9cm
What's the minimum order quantity?
You can order your easy-fold mailers from 1500 pieces.
How eco-friendly are they?
The cardboard of these mailers is made from a mix of 90% recycled content and 10% certified wood pulp. The whole box is recyclable and biodegradable after removing the adhesive tear strip. Only water-based inks are used. Plus, your book-wrap mailers will be locally fabricated in Europe to minimise the carbon footprint of the distribution chain. →Learn more about the eco properties of our packaging here.
Subscribe for promotions, special offers and news from the packaging industry.
Great!
You're now subscribed!