PROJECT COMPLETED BY PACKHELP
How Hemp Juice stayed true to its eco-mission and lowered its packaging costs by 25% with Packhelp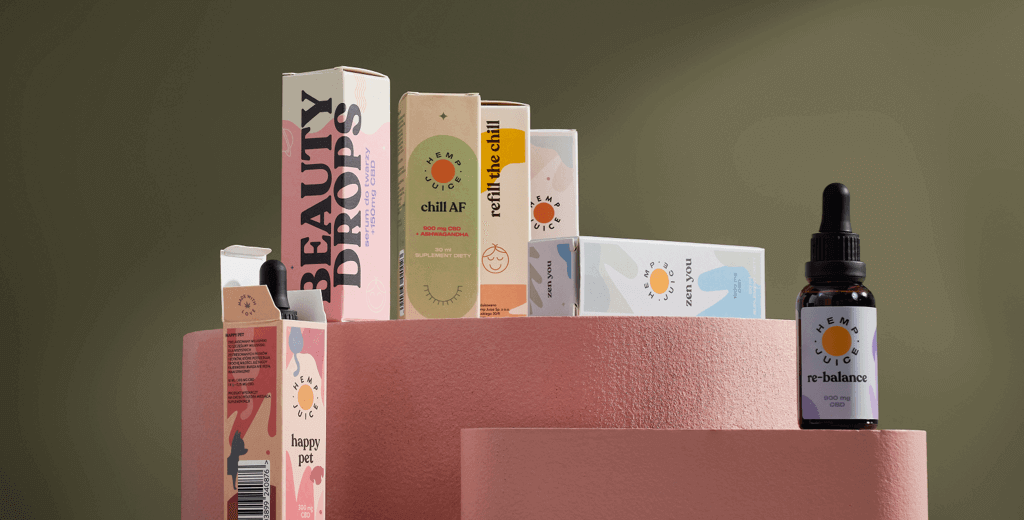 Meet Hemp Juice: a D2C brand specialising in hemp-based oils and cosmetics. They have expanded over the years and now offer a diverse range of products. That usually spells design complexity and higher costs in terms of packaging supplies. Or does it?
Cannabidiol (CBD) oils have begun to build momentum in the dietary supplements market. But with this popularity comes competition. In an increasingly crowded market, Hemp Juice has focused not only on supplying not only the highest quality product out there but also on the best visual communication of the brand and its products – right down to the last detail. Packaging plays a big role in their branding efforts. It needs to reflect the diversity of their product range and fulfil their precise branding needs.

That was just part of the brief that was presented to us. The packaging solution needed to also fit a tight budget and be backed by a seamless logistics operation. No easy task.

So, how did they manage to cover all their packaging needs and cut costs by 25% at the same time? Here's how.

Objectives
Optimisation of costs and logistics
Meeting high aesthetic standards
Support the brand's eco-mission
Results
A 25% cut in production, 3PL storage & fulfilment costs.
Best quality/price ratio with matt foils & offset printing.
Use of recycled materials and natural ink in printing.
Challenge
Hemp Juice's range consists of 6 types of CBD oils and cosmetics, along with products for pets.
They each differ in CBD concentration and health properties.
The 30ml bottles are sold in product boxes with a full-colour print. Each type of oil has its own visual character, requiring a different design on the packaging.
The whole packaging range, however, needed to maintain one coherent style. Nothing less than perfect would do.
Eco-friendly printing
Printing using natural water-based inks.
Flexibility
Delivery calendar and on-demand ordering with a Packhelp Plan.
Design
Matt foil finish with offset printing.
Hemp Juice is a growing company and needed logistic support in the delivery and storage of its boxes.
Packhelp's experts were asked to optimise and organise the whole process to make it as simple and automated as possible so that the brand could focus on other parts of their business.
Finally, the third element of the brief was the issue of sustainability. Hemp Juice customers have come to know the brand as being extremely eco-conscious, which meant that their packaging also needed to live up to those expectations.
Solution
The Packhelp team went to work.
The Packhelp team suggested a product box made from GC1 cardboard with a grammage of 400gsm. The high grammage would not only reinforce the box but also provide the perfect canvas for a bold and complex print.
The next challenge was to find the best way to produce a batch of boxes with nine different designs while maintaining quality. Since the CBD oils come in the same sized bottles, only one product box was required with the dimensions of 3.5 x 3.5 x 11.1 cm.
A matt foil was applied to the printed surface to achieve the highest print results and add extra durability.
Hemp Juice also ordered fully eco-friendly mailing boxes with a natural filler to prevent movement during delivery. This would guarantee that the oils in the product boxes would reach the customer unscathed.
The ordering & logistics process was made simple & seamless with a Packhelp Plan.
The end result was a truly original product box with a unique design over the entire surface.
The designs captured the diversity of the nine different products, and the matt foil enhanced the depth of the many colours featured in each complex design.
Hemp Juice upped the quality of their packaging while also lowering their unit costs by 25%. Thanks to these savings, they had enough left over in their budget to add bio poly mailers to their packaging collection to provide extra protection against the elements. These poly mailers are made from vegetable starch with "OK compost INDUSTRIAL" certification.
Every item of their packaging is either biodegradable or fully recyclable. Plus, the corrugated cardboard of the mailer boxes is made from 90% recycled content.
Highlights
9
graphic designs
Nine product boxes with different graphics reflecting brand's various products. An extra layer of matte foil creates extra vivid colours.
25%
lower costs
Packhelp's in-house storage and fulfilment hub helped consolidate costs and led to flexible ordering.
90%
recycled content
The percentage of recycled material in Hemp Juice's mailer boxes.
Hemp Juice says that the biggest benefit of working with Packhelp is the creation of a fully customised Packhelp Plan.
The plan not only meant volume discounts but streamlined the ordering and logistics process.
Hemp Juice's packaging supplies are produced in bulk, stored in Packhelp's in-house warehouse facility and shipped out at set intervals. This process not only ensures fast turnaround times but also on-demand ordering.
The whole process is simple, seamless and flexible, providing the type of peace of mind that their CBD oils give to their customers.
"When developing the design brief, we thought about two aspects: functionality and ecology. We wanted the mailer box to be visually attractive and encourage people to give it a second life. We know it worked because our customers often write that they use our box to keep jewellery, cosmetics or other items in it. You can't ask for more than that."
Radek Budzik, CEO, Hemp Juice
About Hemp Juice
Hemp Juice is a Polish brand that produces and sells CBD oils and other hemp-based products.
While the founders never purport that CBD is either a miracle elixir or a magic wand, they believe in its therapeutic potential – a claim backed by their own use and growing customer base.
Hemp Juice products are distinguished by the quality of their ingredients and unique styling. The brand cares about the ecological values of its products, as well as educating its customers about the effects of CBD oils.
About Packhelp
Packhelp is a custom packaging provider which operates in more than 30 countries across Europe. We believe in solutions developed through a collaborative process with our customers. We have worked with brands like Google, Uber, Bolt, L'oreal and Revolut, as well as thousands of small e-commerce companies.
We can help you with:
Reducing your packaging costs
---
Tailored order & payment plans
---
Optimising your packaging supply chain
---
---
Order management & tracking
---
Sourcing the best sustainable materials
---
Storage & fulfilment
---
---