PROJECT COMPLETED WITH PACKHELP EXPERTS
How the telecom start-up Raylo decreased their packaging costs by 11% with Packhelp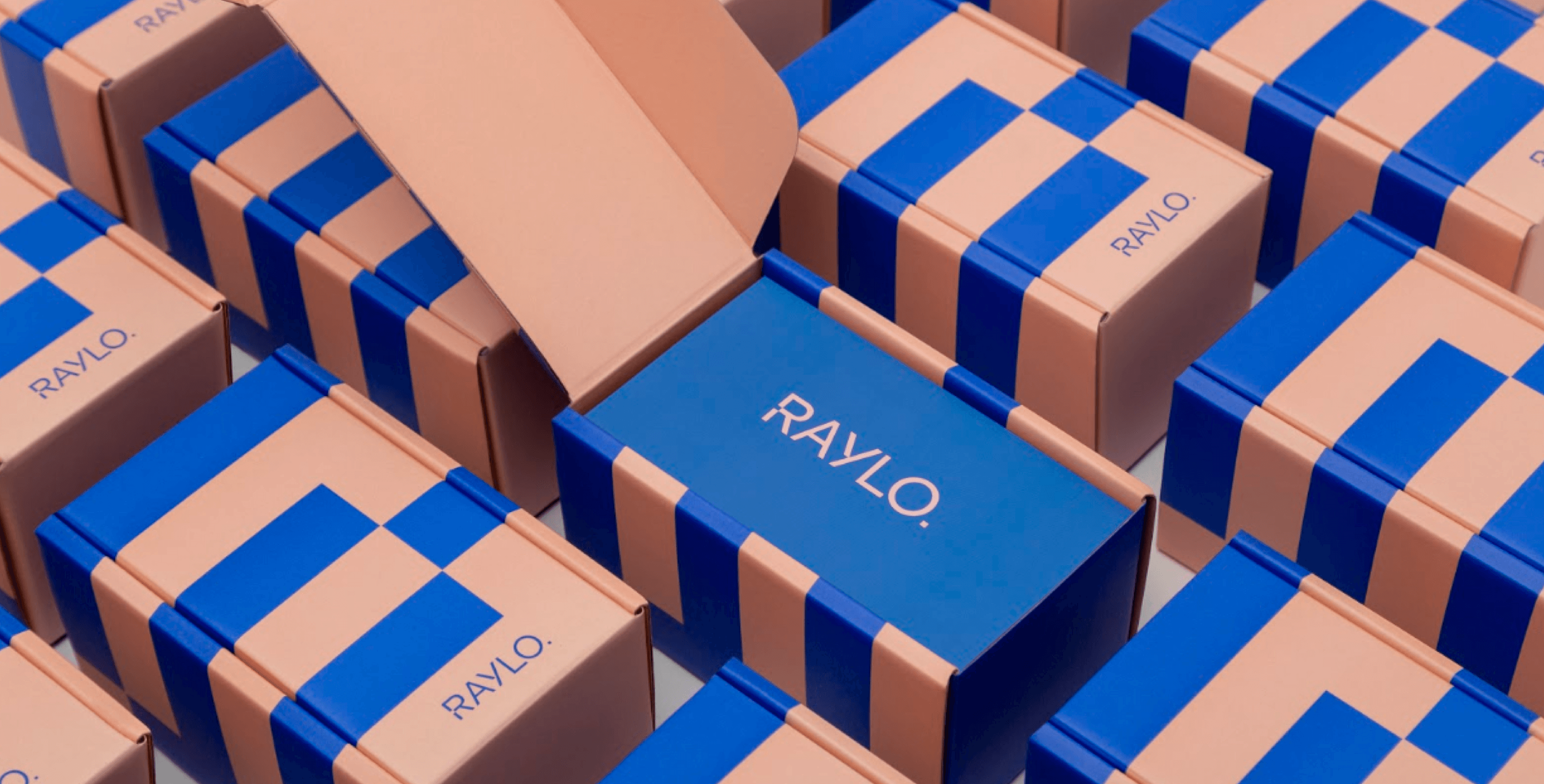 Finding an optimized packaging solution was essential for Raylo at the moment of their product launch.
The founders of Raylo wanted to combine a high degree of functionality with cost-effective materials.
Packhelp
developed a unique packaging design, which met the strict requirements of the customer. As a result, Raylo benefited from a 11% decrease in packaging costs, and a 21% decrease in packaging weight.
RECENT FUNDING
£1.6 MILLION
Optimize your costs
Objectives
Results
Items stacked with an insert
Packaging prototyping & visualizing
The challenge – designing the first Raylo box
Raylo challenged the Packhelp Lab team with strict packaging requirements for their ideal box. The packaging had to be shipping-friendly, easy to assemble and optimized for returns. Our team suggested the box should be made from recycled cardboard and one laminated layer of carton GD210.
In terms of the structural design, the Raylo box:
had a narrow shape (110.0 x 180.0 x 100.0 mm)
included an insert, with the phone on top and other elements stacked beneath the tray holding the iPhone
The team of packaging designers and engineers developed an initial series of vizualizations, with the following details:
Three-layered cardboard and a layer of laminated carton on top
Double-sided design print with film lamination
A custom-designed box insert
Testing
Assessing the prototype
When the first prototype was produced, Packhelp provided the customer with a video tutorial on how to assemble the boxes.
After manual testing, Raylo concluded that the thick walls of the box were too hard to assemble. The three-layered cardboard combined with a laminated layer was also too heavy and difficult to fold.
The series of tests indicated that there was space for optimization, without compromising on the shipping safety. Our experts went back to the drawing board and created a second iteration of the design
Packhelp lowered Raylo's packaging costs by 11%
After a comprehensive feedback session, Packhelp's second iteration addressed and solved Raylo's prior concerns.
The new Raylo box was made from two layers of cardboard instead of three. A different flute – E – and a lower grammage (decrease from 385 g/m2 to 305 g/m2), made the box lighter. The new design was also more sustainable, thanks to a 21% reduction in glue. This more eco-friendly solution adhered to the sustainable mission of Raylo.
Inserts were reconstructed too. This change meant that less space was needed to store all the elements of Raylo's product, thus tackling the issue of an over-packaged good.
The shipping safety was not compromised either. The lighter material provided the same level of protection, and it was easier to assemble. Raylo could use the full printing area of the box – inside and outside – to create a memorable unboxing experience.
Highlights
11%
Lower costs
Packaging cost reduction thanks to a lighter material - a switch from three-layered corrugated cardboard to two layers of cardboard.
21%
Less glue
Less glue was used in the production process, which improved the overall eco-friendliness of the box.
21%
Lighter
Weight reduction helped to further decrease the shipping costs.
"We only like to partner with brands that share our sustainability values. This is why we decided to only offer iPhones, and partnered with Pela for phone cases. That's also one of the main reasons why we chose Packhelp to design our packaging; we share lots of the same values."
Nuno Brito e Cunha,
COO at Raylo
About Raylo
In 2019, Karl Gilbert, Richard Fulton, and Jinden Badesha established Raylo – an innovative subscription box concept that promises to bring its customers a new iPhone at an affordable price.
Each package includes a 100% compostable Pela case and screen protector too. Customers can return their old iPhones, and these are transferred to people from lower-income communities. Therefore, Raylo limits the number of new phones circulating in the market.
Looking for a similar tailor-made solution? Explore our range, get an instant quote & collaborate with our experts.