Chocolate Bar Box
Chocolate bar boxes with a choice of 4 box designs, materials and every finish you need to sweeten the deal.
Full-flavoured branding
Full-flavoured branding
Top-quality prints and every finish out there: hot stamping, matt/gloss lamination & more.
Premium ingredients
Premium ingredients
Available in silky-smooth white or kraft cardstock for a natural look and touch.
4 box designs
4 box designs
Choose from two-piece, drawer, pocket and reverse tuck box styles. Standard and custom sizes available.
Reviews
See what our customers say
Sample packs
Sample packs
Try before you buy. Select up to 5 samples and test different types of packaging, materials and sizes. Order a sample pack and get your money back with your first order.
Order now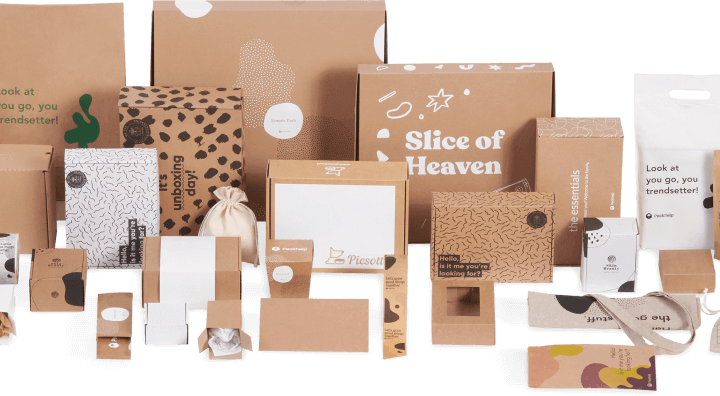 Material
Kraft or White (GC1) Cardstock
Material colour
Natural Kraft
Standard White
Printing process
Offset Printing
Finishes
Hot stamping, matt/gloss lamination, UV spot, de/embossing & ISEGA food-safe foil
FAQ
Why can't I order this product?
Unfortunately, this product is currently being redeveloped. In the meantime, our packaging experts can provide an alternative solution. Just submit a custom quote request here and they'll take care of everything.
Are these boxes only made for chocolate?
Nope. Don't let the name throw you. You can pack all types of confectionery or indeed any small retail product. It's just that these boxes are designed to suit the flat and thin shape of chocolate bars. But with custom sizing, you can order your boxes to fit different shaped items. For example, these boxes would work well for jewellery, gift cards, vouchers, invitations, clothing accessories, watches and the list goes on. Just mention what you would like to pack during the quoting process and our packaging experts can deliver you a custom solution.
Is this chocolate bar packaging classified as food safe?
The cardstock is not by default certified to have direct contact with chocolate or any food. But upon request, it can be coated with an extra food-safe foil with ISEGA certification. TIP: the box itself doesn't need food-safe certification if there is a food-safe separator or wrapping already in place between the food product and the box. As a matter of fact, that's the industry standard in chocolate bar packaging. The chocolate bar box is used as secondary protection and display, while the chocolate bar is wrapped in plastic packaging.
What sizes are available for these chocolate bar boxes?
You have three sizing options (outside dimensions – LxWxH):
153 x 78 x 13 mm – designed to fit the standard rectangular chocolate bar

125 x 125 x 20 mm – designed to fit square chocolate bars

Custom – just add your desired dimensions in the quote request form
Just a heads up: due to gluing requirements, the minimum height for all box designs is 13mm (10mm inside).
Is it possible to print both on the outside and inside the box?
Sure. You can print on just about every inch of these drawer boxes. That's high-quality offset printing, inside and out, on all sides. Just make the request during the quoting process.
What finishes are available?
You have a huge range of finishes to choose from, including: hot stamping, matt/gloss lamination, UV spot varnishing, debossing/embossing, ISEGA food safe foils and more. Just reach out during the quoting process and our packaging experts will take you through your options.
How are these boxes delivered?
It depends on the box design. Except for the pocket style design, all our chocolate bar boxes are delivered pre-glued and flat. That saves space in delivery and storage. The pocket box is delivered already assembled and shelf-ready.
How eco-friendly are these cardboard chocolate bar boxes?
The eco properties of your boxes will largely be determined by what material and finishes you choose. The kraft option is made from 70% virgin certified wood and 30% recycled materials. The white GC1 cardstock is made from 100% virgin certified wood. What does certified wood mean? It means that the paper pulp has been sourced from responsibly managed forests and mills. Also, keep in mind that certain foils and finishes can make the cardstock non-recyclable. But untreated cardstock is 100% recyclable. Lastly, the whole production process occurs locally in Europe, which limits the CO2 emissions arising from transportation.
What is the minimum order quantity?
Orders start at 1500 pieces.
Subscribe for promotions, special offers and news from the packaging industry.
Great!
You're now subscribed!