Full Colour Mailer Box
A cardboard box with the most vivid print. Stands out in a high street shop and can be shipped safely.
Instant Quotes
Instant Quotes
Get volume discounts and pricing on the spot with orders above 3000 pcs.
Vivid & sharp
Vivid & sharp
Even the most detailed designs will look spectacular.
Highly personalized
Highly personalized
A glossy shine, a touch of matt or white inside.
ECO PROPERTIES
Available sustainable options:
Locally manufactured in Europe, meaning a lower transportation footprint compared to goods produced and imported from abroad.
Can be broken down and used as a new material.
Contains at least 60% of recycled materials.
Your new e-commerce brand ambassador
E-commerce delivery that can't be ignored in any home or office. Full Colour Mailer Boxes are sturdy, eye-catching and come with a wide range of finishing options.
Create yours
Make your branding pop
Glossy foil adds a sparkly vibe. Matt foil embraces the premium character. Add some custom tissue paper inside for an unforgettable unboxing experience. It's the packaging to kick-off an amazing product experience.
Make it pop
Reviews
See what our customers say
Sample packs
Sample packs
Try before you buy. Select up to 5 samples and test different types of packaging, materials and sizes. Order a sample pack and get your money back with your first order.
Order now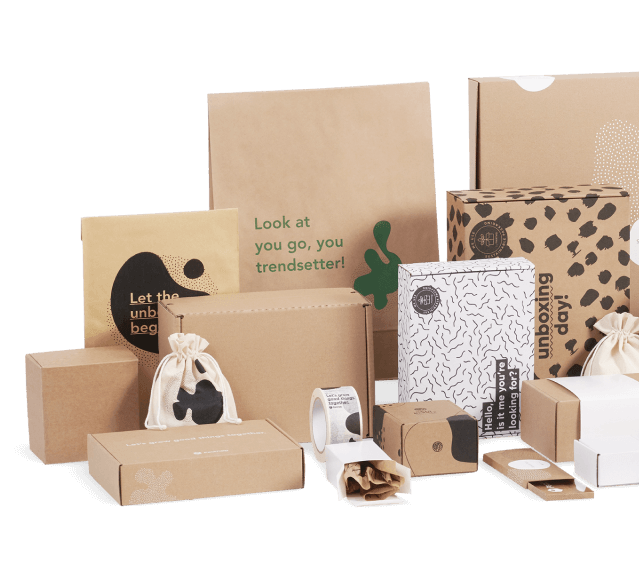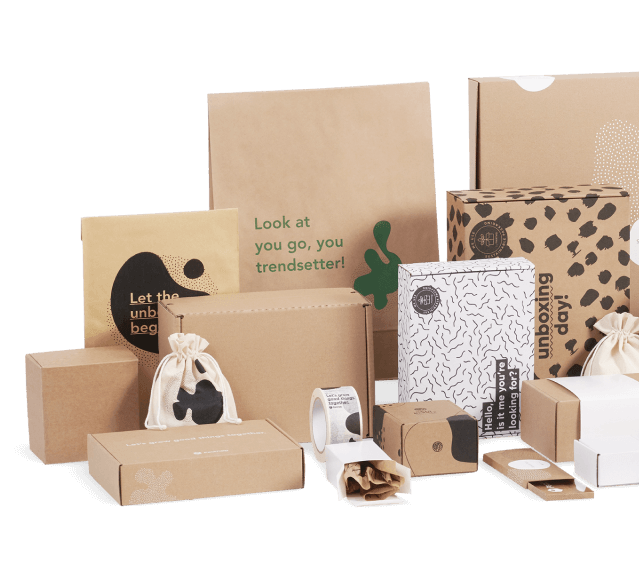 SPECIFICATION
Specifications
Material
Corrugated (three layers) cardboard coated with white paper (PAP20)
Material colour
Standard White
Grammage
1.5 mm thick, 340 g/m2
Printing process
Digital Printing / Offset
Add-ons
Matt foil / Glossy foil / White inside
Customer Stories
See what our customers say!
m0ther
M0ther is a British brand that caters to mothers of all ages helping them feel pampered and taken care of. See how their packaging makes expecting mums feel extra special.
Read more about this inspiring story
FAQ
Can you print inside a Full Colour Mailer Box?
No, standard Full Colour Mailer Boxes do not include this option. If you want to have them printed inside, choose Double-sided Mailer Boxes instead.
Does the price of Full Colour Mailer Boxes include the cost of my design?
Printing with your design – logo, pattern, graphics etc. – is included in the overall price of your order. The number of images or colours in your design does not influence the final price.
In the case of custom printing variants (including hot-stamping, embossing, debossing, UV varnish and more), use the Packhelp Pro service. To learn more, please click here.
Is it possible to order a custom-sized Full Colour Mailer Boxes?
Sure! The production of custom sizes of Full Colour Mailer Boxes requires:
At least 1500 pieces in your order.
A one-time payment of preparing a cutting-die. It's a fee that covers the production of a special tool we will use to cut your custom packaging. The good news is that every following order will not include this payment.
In order to proceed with this option, complete a "Request a Quote" form.
Are Full Colour Mailer Boxes environmentally friendly?
Each Full Colour Mailer Box is made from FSC® certified material, with at least 70% of recycled content. Each Full Colour Mailer Box is covered with a non-biodegradable foil to create a blank canvas for your colour prints.
Can you use Full Colour Mailer Boxes to ship products?
There is no better way to ship your products than with Full Colour Mailer Boxes. Sturdy and optimized for shipping, Full Colour Mailer Boxes are perfect for e-commerce brands and anyone else sending items via courier
Full Colour Mailer Boxes are made with corrugated cardboard, which is strengthened by a layer of paper and foil.
Which sizes of Full Colour Mailer Boxes work best for clothing and shoes?
Most clothing companies choose F79 boxes (36.4 x 31.4 x 12.5 cm). It's a rectangular box with enough depth to ship a jumper, sweater, coat, trousers or a few pieces of lighter clothing. For shipping shoes, F71 (35 x 26 x 10 cm) are the best boxes.
What is the difference between Full Colour Mailer Boxes and Eco Colour Mailer Boxes?
The main difference between Full Colour Mailer Boxes and Eco Colour Mailer Boxes is the look of the print.
Eco Colour Mailer Boxes have designs printed directly onto whitened cardboard. The colours are a bit more subtle, with a visible texture of cardboard. It's a great solution for brands that love that eco vibe, but also a rainbow of colours.
Full Colour Mailer Boxes, on the other hand, are extremely saturated and super lively, with the highest-quality look. They can also be covered with matt or glossy foil to add a more premium feel.
What are Instant quotes?
Instant quotes is our system of transparent pricing for wholesale quantities of packaging. With Instant Quotes, you can quickly screen our pricing for the standard sizes and custom sizes of packaging for 2500 pieces & more.
In order to check the price of a given custom packaging solution, please choose any quantity above 2500 pieces, choose your size and then proceed to view the offer.
Are Instant Quotes available for all products at Packhelp?
We are working on it, but until now, the Instant Quotes system is available on all Mailer Boxes, Shipping Boxes and Classic product Boxes. Sign up to our newsletter to stay updated with our product developments!
Subscribe for promotions, special offers and news from the packaging industry.
Great!
You're now subscribed!
Australia & Oceania

Belgium

Bulgaria

Canada

Croatia

Denmark

Estonia

Finland

Greece

Hungary

Ireland

Latvia

Lithuania

Luxembourg

Norway

Portugal

Slovakia

Slovenia

My country is not listed