Plain Delivery Box
A reusable delivery box with adhesive strips. Perfect for E-commerce businesses and safe shipping on long distances.

Recommended by online stores
Recommended by online stores
The top choice for thousands of online shopping brands.
Tailored for e-commerce needs
Tailored for e-commerce needs
Comes with double adhesive strips to easily seal and reseal the box.
Eco-conscious delivery
Eco-conscious delivery
Made from recycled cardboard and fully recyclable.
ECO PROPERTIES
Available sustainable options:
Locally manufactured in Europe, meaning a lower transportation footprint compared to goods produced and imported from abroad.
Can be broken down and used as a new material.
Contains at least 60% of recycled materials.
Made in a way that allows the product to be used again after fulfilling its original purpose.
Optimal functionality
Optimal Delivery With 'Peel to open' Adhesive Strips
Two adhesive strips to seal and reseal your Plain Delivery Box. No more tape or stickers, and great for tamper-proof delivery. Dual-adhesive strips mean your customers can reuse your box if they need to send it back to you.
Get Yours Now
Safe delivery
Simple Shipping Elegance
Intact delivery is your e-commerce's top priority. Plain Delivery Boxes get the job done. A classy delivery box that's soft to the touch. With a tough and sturdy design keeping products safe until their final destination.
Order Now
Reviews
See what our customers say
Sample packs
Sample packs
Try before you buy. Select up to 5 samples and test different types of packaging, materials and sizes. Order a sample pack and get your money back with your first order.
Order now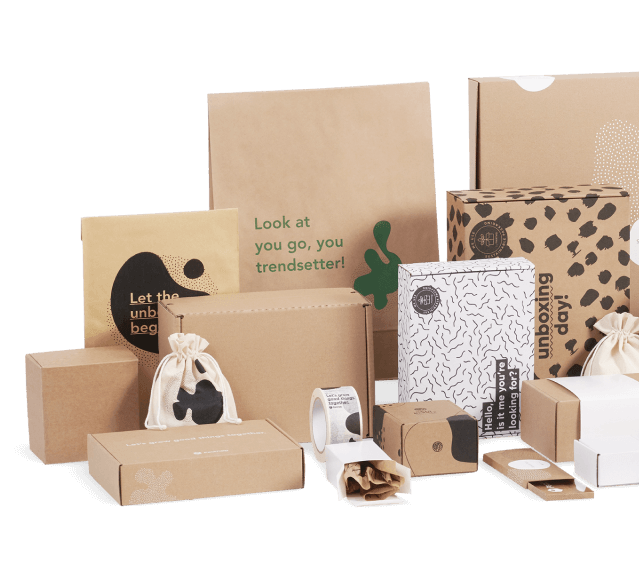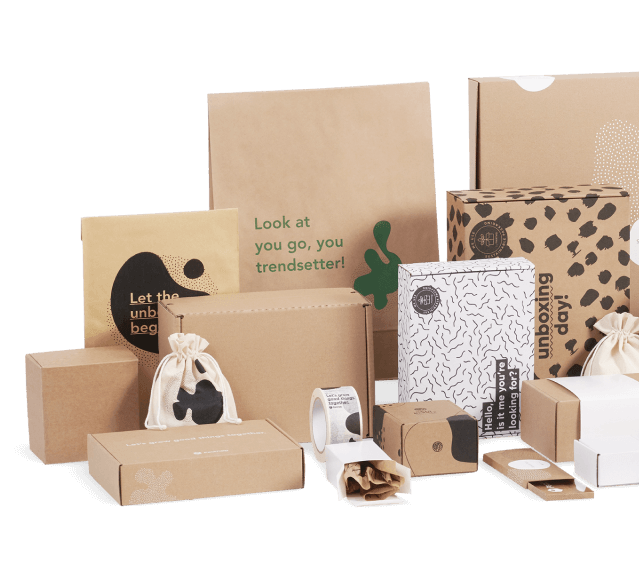 SPECIFICATION
Specifications
Material
Corrugated cardboard (three layers, flute E) (PAP 20)
Material colour
Natural Kraft
Standard White
Material
recycled content
FAQ
Can my Delivery Boxes be custom-sized?
Yes, you can order custom-sized Plain Delivery Boxes with a minimum order quantity of 1,500 pieces. If you want this option, please fill out the "Get a Quote" form.
Can Plain Delivery Boxes be used for shipping?
There is no better solution for shipping than Plain Delivery Boxes! With three layers of corrugated cardboard, these no-print delivery boxes are sturdy and will keep your product free from damage. The adhesive strips will also ensure the box is fully closed and not tampered with.
Are Plain Delivery Boxes eco-friendly?
Yes! Plain Delivery Boxes are made from at least 70% recycled cardboard and are fully recyclable. If you add a second adhesive strip, they can be used again in case your customer needs to send a product back to you. They are the perfect option for sustainable brands.
What box sizes do you recommend for clothes?
We recommend you use AS73 (370 x 290 x 70 mm) sized boxes. These have been specially designed for larger fashion garments. It's the ideal choice to ship blouses, trousers, shoes and other clothing items. For smaller products, like accessories or single clothing items, we recommend you use AS55 (290 x 185 x 70 mm).
How secure are the adhesive strips on the Plain Delivery Boxes?
How secure are the adhesive strips on the Plain Delivery Boxes?
Can customers reuse the boxes for returns?
Yes, the dual-adhesive strips mean your customers can reuse the box if they need to send it back.
Subscribe for promotions, special offers and news from the packaging industry.
Great!
You're now subscribed!
Australia & Oceania

Belgium

Bulgaria

Canada

Croatia

Denmark

Estonia

Finland

Greece

Hungary

Ireland

Latvia

Lithuania

Luxembourg

Norway

Portugal

Slovakia

Slovenia

My country is not listed