Plain Mailer Box
A shipping box made from three-layered corrugated cardboard. Entirely recyclable.
Instant Quotes
Instant Quotes
Transparent pricing for quotes above 2500 in a blink of an eye. Directly in our editor.
The secure shipping choice
The secure shipping choice
Triple-fold construction for rigidity and dust flaps for extra protection.
Environmentally conscious
Environmentally conscious
Fully recyclable and made from a min. 70% recycled content.
ECO PROPERTIES
Available sustainable options:
When exposed to light, air, moisture and microbes, this product breaks down to natural elements found in nature.
Locally manufactured in Europe, meaning a lower transportation footprint compared to goods produced and imported from abroad.
Contains no petroleum-based plastics.
Can be broken down and used as a new material.
Contains at least 60% of recycled materials.
Worldwide shipping done right
Triple-fold construction keeps your box rigid and secure. Dust flaps make the box close tightly and protect your goods inside from dirt and dust. Deliver your products safely, even to the other side of the world.
Order now
Recycled & Recyclable
The cardboard is made from FSC® certified material with 70% recycled content.  These fully-recyclable boxes work great with an eco-friendly product and help you keep your green promise.
Order now
Reviews
See what our customers say
Sample packs
Sample packs
Try before you buy. Select up to 5 samples and test different types of packaging, materials and sizes. Order a sample pack and get your money back with your first order.
Order now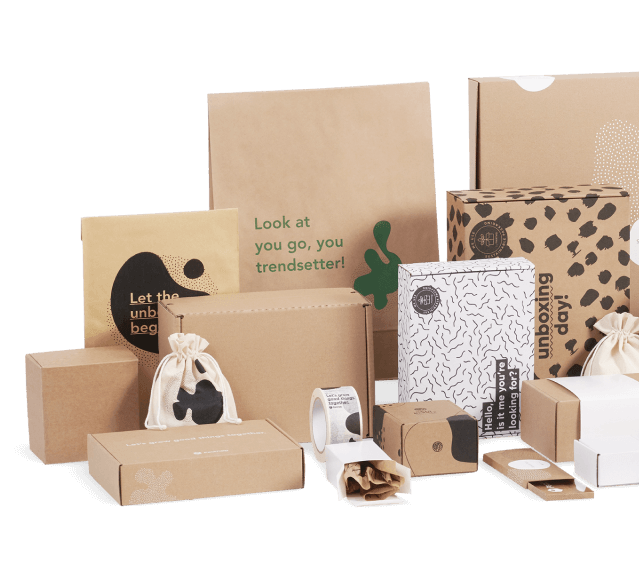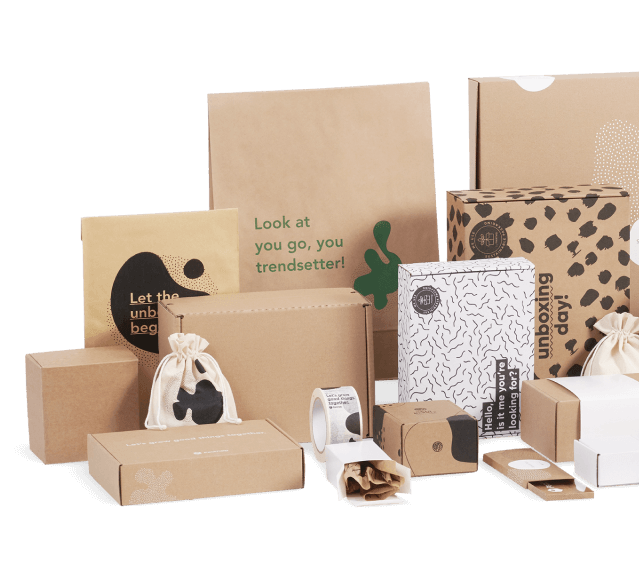 SPECIFICATION
Specifications
Material
Corrugated fiberboard (three layers, PAP 20)
Material colour
Natural Kraft
Standard White
Grammage
1mm thick, 340 g/m2
FAQ
Is it possible to order No Print Mailer Boxes with custom sizes?
Yes, you can order custom-size mailer boxes. These orders are possible for:
A minimum height (depth) of 2.4cm (24mm).
A minimum order quantity of 1000 boxes.
Additionally, a one-time cutting-die cost of around €240 (depending on the box size) will be added to your first order. You will not be required to pay this amount again. If you wish to order custom sized no print mailer boxes, fill out the "Get A Quote" form.
Are Plain Mailer Boxes environmentally friendly?
Yes, No Print Mailer Boxes are made from at least 70% recycled materials and can be recycled further. The production of these mailer boxes doesn't require glue or foil lamination. It's a great solution for brands that value eco-friendliness.
Can you use No Print Mailer Boxes for shipping?
The construction of No Print Mailer Boxes is perfect for shipping and transport. Corrugated cardboard is a solid material that provides cushioning for your products inside. It is light, which means no extra weight in your package. Plus, with a bit of creativity, you can spruce up a No Print Mailer Box with tissue paper and create a memorable unboxing experience.
What's the ideal size No Print Mailer Boxe for clothes or shoes?
For shoes and larger articles of clothing, an F79 (36.4 x 31.4 x 12.5 cm) box is the ideal solution. You can safely ship shoes, blouses, trousers and other pieces of garments. A slightly smaller box, the F71 (35 x 26 x 10 cm) will also work perfectly for shipping clothes.
What are Instant quotes?
Instant quotes is our system of transparent pricing for wholesale quantities of packaging. With Instant Quotes, you can quickly screen our pricing for the standard sizes and custom sizes of packaging for 2500 pieces & more.
In order to check the price of a given custom packaging solution, please choose any quantity above 2500 pieces, choose your size and then proceed to view the offer.
Are Instant Quotes available for all products at Packhelp?
We are working on it, but until now, the Instant Quotes system is available on all Mailer Boxes, Shipping Boxes and Classic product Boxes. Sign up to our newsletter to stay updated with our product developments!
Subscribe for promotions, special offers and news from the packaging industry.
Great!
You're now subscribed!
Australia & Oceania

Belgium

Bulgaria

Canada

Croatia

Denmark

Estonia

Finland

Greece

Hungary

Ireland

Latvia

Lithuania

Luxembourg

Norway

Portugal

Slovakia

Slovenia

My country is not listed