Plain Shipping Box
Sturdy boxes made from recycled cardboard. Designed for shipping bulked goods or very large items.

Fast delivery
Fast delivery
In a hurry? Ready to ship & at your doorstep in up to 4 days!
High-quality shipping
High-quality shipping
Durable boxes reinforced with double flaps for safe shipping.
Eco-friendly
Eco-friendly
Made from recycled cardboard. Fully recyclable.
ECO PROPERTIES
Available sustainable options:
When exposed to light, air, moisture and microbes, this product breaks down to natural elements found in nature.
Locally manufactured in Europe, meaning a lower transportation footprint compared to goods produced and imported from abroad.
Contains no petroleum-based plastics.
Can be broken down and used as a new material.
Contains at least 60% of recycled materials.
FEATURES
Safe delivery & durability in a super easy-to-store & handle shipping box
a multi-functional box well suited for transport, shipment, warehousing, storing, and object segregation;
comes unfolded and takes up little space, which allows for easy stacking and storing; 
a cost-effective, tear-resistant, and easy-to-handle box, offering p

rotection of shipped goods against damage.
FEATURED CASE STUDY
Psi Bufet went green to meet a technical challenge and cut production costs by 67%.
See how Packhelp assisted the dog food supplier by:
Developing a thermal shipping box with 100% recycled cardboard insulation
Minimising packaging volume and costs per unit with a space-optimised design
Find out more
Designed for heavy-weight freights
Ensure the safe delivery of bulk goods with our cardboard design, featuring double flaps. This design effectively absorbs shocks, safeguarding the contents inside.
Order now
Eco-friendly choice
Produced from recycled cardboard. Fully recyclable too. It's a high-performance product made with all-natural materials. Perfect to meet your brand's eco-friendly standards.
Order now
Reviews
See what our customers say
Sample packs
Sample packs
Try before you buy. Select up to 5 samples and test different types of packaging, materials and sizes. Order a sample pack and get your money back with your first order.
Order now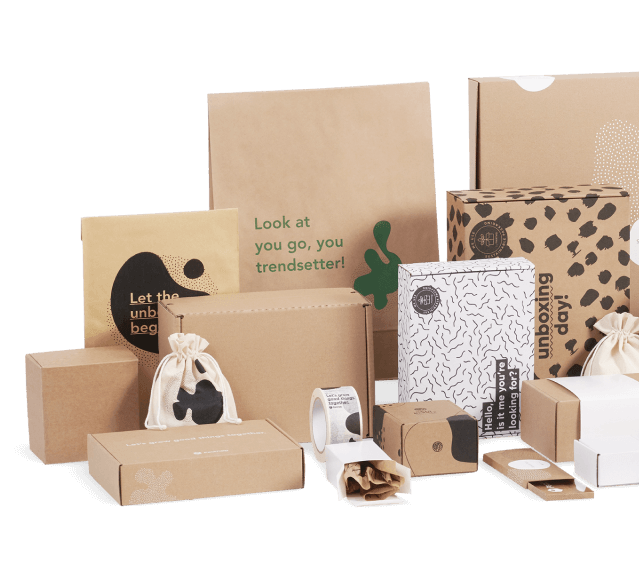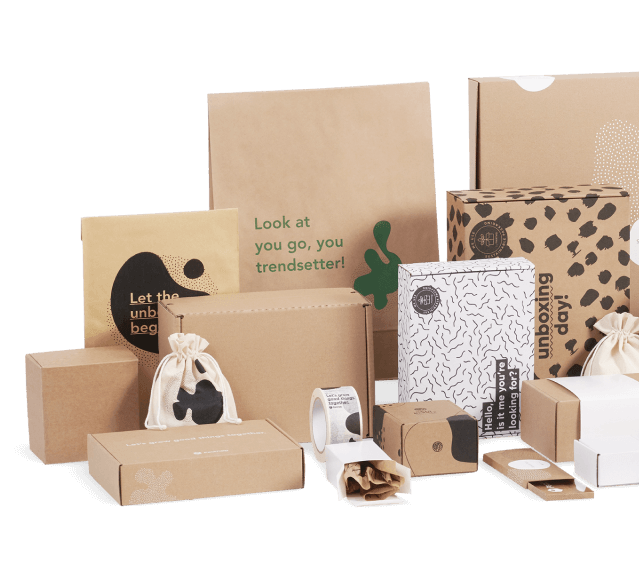 SPECIFICATIONS
Specifications
Material
Testliner 380g flute B; (K020 - Testliner 580g flute BC) (PAP 20)
Material colour
Natural Kraft
FAQ
Can you make a custom size of a Plain Shipping Box?
Custom sizes of Plain Shipping Boxes are available with a minimum order quantity is 1500 pieces. Please fill out the brief form on our website to buy custom sizes.
How solid is the Plain Shipping Box?
Super-solid! Plain Shipping boxes are the most solid ones in our whole offer. They are made with thick and durable test liner, a product that consists of three layers of cardboard that intertwine for increased strength. Thanks to this complex material, you can rest assured that your products will remain intact during transport.  
Do these shipping boxes come with any sealing options?
Afraid not. These boxes are sealed with packing tape, like our Packaging Tape or Kraft Tape. But if you're looking for a delivery box with self-adhesive strips, check out our E-commerce Delivery Box.
Subscribe for promotions, special offers and news from the packaging industry.
Great!
You're now subscribed!
Australia & Oceania

Belgium

Bulgaria

Canada

Croatia

Denmark

Estonia

Finland

Greece

Hungary

Ireland

Latvia

Lithuania

Luxembourg

Norway

Portugal

Slovakia

Slovenia

My country is not listed