How to place an order with Packhelp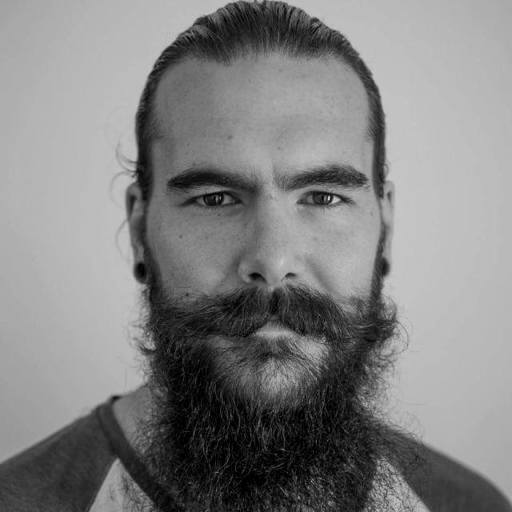 Phil Forbes | 5 min read
Subscribe to stay updated
Great!
You're now subscribed!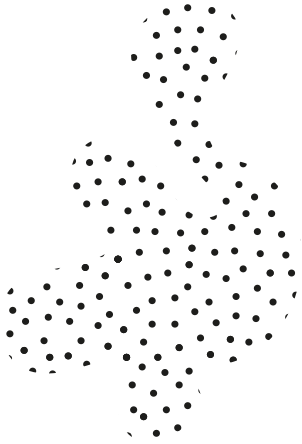 Placing your order with Packhelp can, at times, be a little more complicated than it should, owing to all the products and customisation options that are available. 
Because of that same reason, it's also impossible to give you a 'rough' price, as there are so many customisable options.
To get a price, you'll have to follow the steps in this article, and you'll get a 'rough' price for your packaging once you land in our editing software.
This article will walk you through the process of placing an order with Packhelp, top to bottom.
If you prefer to watch this process as a video, check out the playlist below:
Today, we're going to create custom packaging for our 90's themed fashion brand, Radical.
Below is the Packhelp homepage. From here, we will browse around and find a packaging product. 
Your journey with Packhelp might not start on the homepage that you see above, but no matter where you are on the site, you'll be able to easily find the shop page that shows off every product available. 
From here, click on a product to learn more about it.
We've decided to customise a full-colour mailer box, as it's a great blank canvas for packaging design, and gives us loads of finishing options.
Click on the product you'd like to customise, and you'll see something similar to this:
Explore the page and make sure that it meets your needs.
Note: You won't be able to see the price on this page - you need to continue to the next step.
When you know this is the product you want to customise, click on 'Size' on the right hand side.
A new window will open.
In this window, you'll be able to pick the size of the product you'd like to customise.
Note: The name 'F56' is a Fefco code, and denotes an industry-standard size. Learn more about FEFCO codes here.
As you click through the various sizes, you'll see what each size is commonly used for, as well as the external dimensions and the overall weight of a single unit.
Note: If you wish to create a box that's a custom size, you'll have to request a quote. Unfortunately, you cannot design a custom-sized box in our online editing software.
Once you have picked your size, click 'done'.
On the next screen, you'll be asked to select your quantity.
Our brand is just starting out, so we're going to pick 120 pieces.
If you need to order over 3000 pieces, you'll be asked to request a quote so we can ensure we find you the most competitive price.
After selecting your quantity, you'll be presented with another drop-down menu:
If you prefer to design your packaging on a dieline and then have that printed, click 'Design on a dieline'.
Designing on a dieline is a little more advanced and requires skills with Adobe Illustrator. Click here to learn more about designing on a dieline.
For us, we want to use Packhelp's online software to design our packaging, so we will click 'Choose Material & Style.
On the next step, you'll see the total price for your packaging so far.
After a short loading screen, you will see something similar to below:
A 3D rendering of a plain white box, or the packaging product that you decided to design, will appear in front of you.
This is where your creativity needs to fire up!
You can pick from a wide range of professional and premade patterns and customise them to match your existing colour palette.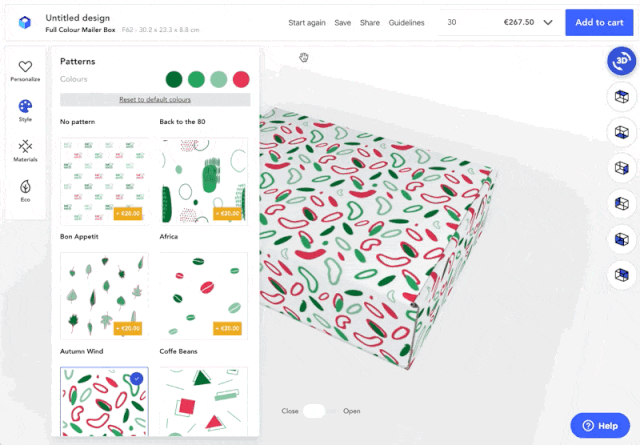 Upload your brand's logo and other imagery, and drag and drop them into the locations that you want them on your packaging.
You can add social media icons, and then your social media handles.
Need some inspiration?
Take a look at our in-depth article about packaging design or take a look at our 'inspirations', brief interviews with brands just like yours that have gone through this same process of designing their packaging.
We also suggest that you add 'eco property' logos, to tell your customer how environmentally friendly your packaging is.
You can also add a QR code for your customer to scan and see exactly how sustainable the exact packaging in their hand is.
If you'd like to offset the carbon created by the printing of your packaging, you plant a tree using our partnership with one-tree planted, and add a logo onto your packaging explaining how you've offset the emissions.
The main point is this:
Designing your packaging is a truly creative process, and the internet is a vast ocean of inspiration.
Packhelp's editing software makes it easier for you to create your ideal packaging, but it will take time, and a lot of trial and error. 
Remember when designing your box, you can open it up and look inside using the toggle button at the bottom of the design screen.
By clicking the 'Materials' button on the left-hand side taskbar, you can also manage the textures and finishes of your packaging design. For example, you can make the inside of your box white or a natural kraft texture.
You can also define whether you prefer a gloss or matte finish on the exterior print, or none at all.
After some research, inspiration and letting our creativity shine, we've created something we're happy with.
The next step is to hit 'Add to cart' on the top right-hand side.
Next, you'll begin the checkout process. It's just like buying anything in any other online store. You'll see a screen similar to the following below:
You'll be presented with 3 options that can help you improve your packaging design, and get it to you quicker.
Faster production
Your business moves quickly, and sometimes you need packaging supplies yesterday. That's why we give you two express printing options to get your packaging sooner, rather than later.
Learn more about express and super express production
Print Expert Check
Our team of expert packaging designers that work in-house can go over your packaging design to make sure that everything is ok.
They'll check that the images and logos you use are of high enough quality, that your colours will be printed accurately, and suggest any changes if they feel it can improve the final product.
Learn more about Packhelp's Print expert Check here
Packhelp Warranty
Lock in peace of mind with a warranty that provides coverage against packaging that's damaged in transport.
The section below, you'll see some extra packaging accessories that we find customers usually forget about.
Custom labels, thank you cards and paper bubble wrap are all products that can be quickly added to your order and help you create a better unboxing experience for your customer.
Below that, you'll find more products that can also complement your existing packaging choice.
If you like your packaging design and want to make it part of your product, you might send it in a mailing bag.
If you're selling your products in a shopping mall, a branded paper bag can take your branding experience out of your store and into the mall itself.
If any of these products are of interest to you, click the button and you'll be able to customise them, add them to your cart and continue the checkout process.
If none of these products are of interest to you, hit the 'Review cart' button in the top right.
In this section, you'll see a summary of costs, and you'll need to confirm your shipping method.
NOTE: As your packaging will be manufactured in the EU, you'll need to pay a 20% import fee if you live in the UK.
Here's how Packhelp will help you with the import process
When you're ready, hit 'Continue'.
In this screen, you'll be asked to supply your invoice information, as well as the delivery address.
The final screen asks you to select your payment method, where you'll then complete the checkout and purchase process in your preferred manner.
And that's it!
Now, you should see a 'thank you for your order' screen, and have a confirmation email in your inbox.
If you don't see any of this, use the chat feature to speak to someone who can ensure your order has been placed.