Pre-Printed Full Colour Mailer Box
Corrugated boxes with a ready-to-go colourful print.
Low minimum orders
Low minimum orders
Order from as little as 30 pieces to start off your custom packaging journey
Fast turnaround
Fast turnaround
Custom packaging without the lengthy wait times
Eye-catching designs
Eye-catching designs
Pick from 2 designs to make a great first impression
ECO PROPERTIES
Available sustainable options:
Locally manufactured in Europe, meaning a lower transportation footprint compared to goods produced and imported from abroad.
Can be broken down and used as a new material.
Contains at least 60% of recycled materials.
Vibrant & eye-catching
With a choice of vibrant yellow or smooth pink full-colour prints, you don't have to break the bank to start using customised packaging. 
Order now
Ready-to-go custom packaging
Thanks to the fact that they're already printed, you can have your Pre-Printed Full-Colour mailer boxes shipped out to you in a matter of days.
Get a price
Sample packs
Sample packs
Try before you buy. Select up to 5 samples and test different types of packaging, materials and sizes. Order a sample pack and get your money back with your first order.
Order now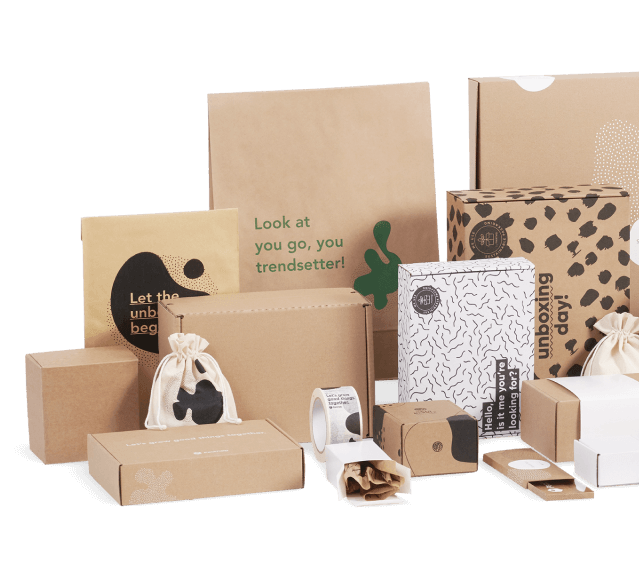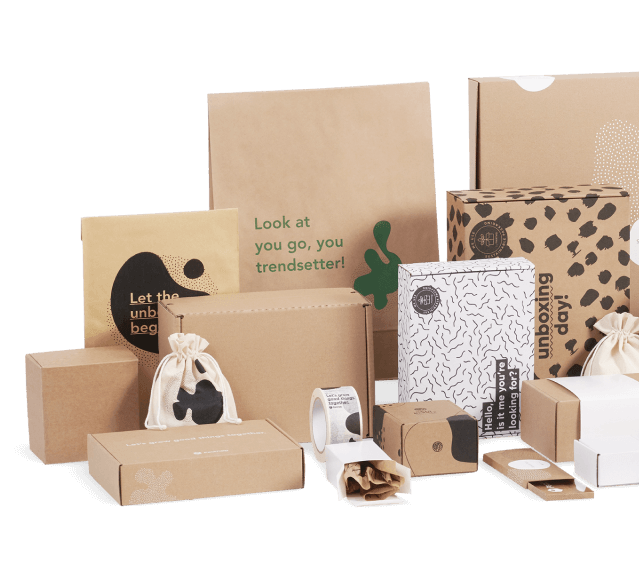 SPECIFICATION
Specifications
Material
Corrugated (four layers) cardboard coated with white paper (PAP 20)
Material colour
Multicolour
Grammage
1.5 mm thick, 590 g/m2
Printing process
Digital Printing / Offset
Available sizes
F52 & F71
FAQ
Can I customize a pre-printed mailer box?
No. Pre-printed boxes are designed to quicken up the ordering process. So you have ready-made designs that are good to go.  If you want to customize your boxes, opt for our regular mailer boxes and design them in our online editor.
What sizes are avalible?
Our pre-printed Full-colour mailer boxes come in two sizes.
F52
Internal measurements: 24.9 x 19 x 5.5 cm
External measurements: 26.5 x 19.5 x 6 cm
F71
Internal measurements: 33.7 x 25.5 x 9.5 cm
External measurements: 35 x 26 x 10 cm
Is there print inside a pre-printed mailer box?
No, our pre-printed Full-Colour Mailer Boxes cannot be printed internally, but they are stark white inside. If you want to have something unique printed inside, choose Double-sided Mailer Boxes instead.
Are pre-printed Full colour Mailer Boxes environmentally friendly?
Each Full Colour Mailer Box is made from cardboard with at least 70% recycled content. However, each Full Colour Mailer Box is covered with a non-biodegradable foil to create a blank canvas to print colour onto. Alternatively, try our pre-printed Eco mailer boxes.
Can I use pre-printed mailer boxes for shipping products?
Absolutely. Full Colour Mailer Boxes are perfect for shipping products. They're sturdy and made from strong corrugated cardboard, which is then strengthened by a layer of paper and foil. Pre-printed Full Colour Mailer Boxes are perfect for e-commerce brands delivering items.
What can I ship in pre-printed mailer boxes?
Our pre-printed mailer boxes come in two different sizes. F52 is great for shipping books, CDs and even small electronics. Whereas the F71 is perfect for shipping clothes or A4 paper sized items.
What's the difference between the pre-printed Full colour mailer box and the pre-printed eco mailer box?
The main difference is in the material and the look of the print. The designs of Pre-Printed Eco mailer boxes are printed directly onto the cardboard. Print is only in black, with a visible texture of cardboard. 
Pre-printed Full Colour Mailer Boxes, on the other hand, have vibrant and lively colours. They can also be covered with matt or glossy foil to add a more premium feel.
What types of finishes are avalible?
Each design comes with its own type of finish to ensure that it's as eye-catching as possible.
The pink design that's an F52 size box comes with a foil matt finish
The yellow design that's an F71 size has a glossy foil finish
Subscribe for promotions, special offers and news from the packaging industry.
Great!
You're now subscribed!
Australia & Oceania

Belgium

Bulgaria

Canada

Croatia

Denmark

Estonia

Finland

Greece

Hungary

Ireland

Latvia

Lithuania

Luxembourg

Norway

Portugal

Slovakia

Slovenia

My country is not listed