Recycled Poly Mailer
A lightweight recycled & fully recyclable mailing bag. Comes with 2 adhesive strips for send/return; amazing for e-commerce businesses.

Custom made
Custom made
Create your own in our Design Studio.
Environmentally conscious
Environmentally conscious
Made from at least 80% recycled plastic.
More savings
More savings
A cheaper alternative to the Bio Poly Mailer.
ECO PROPERTIES
Available sustainable options:
Locally manufactured in Europe, meaning a lower transportation footprint compared to goods produced and imported from abroad.
Can be broken down and used as a new material.
Contains at least 60% of recycled materials.
Made in a way that allows the product to be used again after fulfilling its original purpose.
FEATURES
Let's quickly explore why are Recycled Poly Mailers superior when it comes to eco-friendliness
they're made from at least 80% recycled plastic
the production process requires 3x less energy & less water than that of a regular plastic bag
due to the minimum quantity of virgin plastic, the  manufacturing process uses 80% fewer fossil fuels
further recycling will reduce carbon emissions and, with it, your business's environmental impact
Unleash your creativity
Take your recyclable poly mailer bag for a spin before you place an order. Select the desired quantity & customise with our Design Studio. Upload your graphic elements or use our presets & environmental labels for branded packaging that's dressed to impress. 
Take me for a spin
It's got the full package
These recyclable poly mailers are built to withstand the most precarious weather conditions. They're waterproof & tear-proof, durable & conscious. Our recycled poly mailers are available in 5 sizes & come with adhesive strips for send/return. 
Get yours now
Sample packs
Sample packs
Try before you buy. Select up to 5 samples and test different types of packaging, materials and sizes. Order a sample pack and get your money back with your first order.
Order now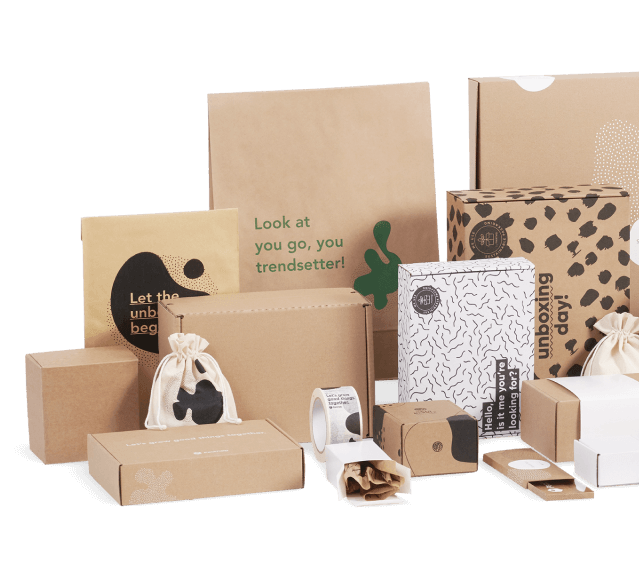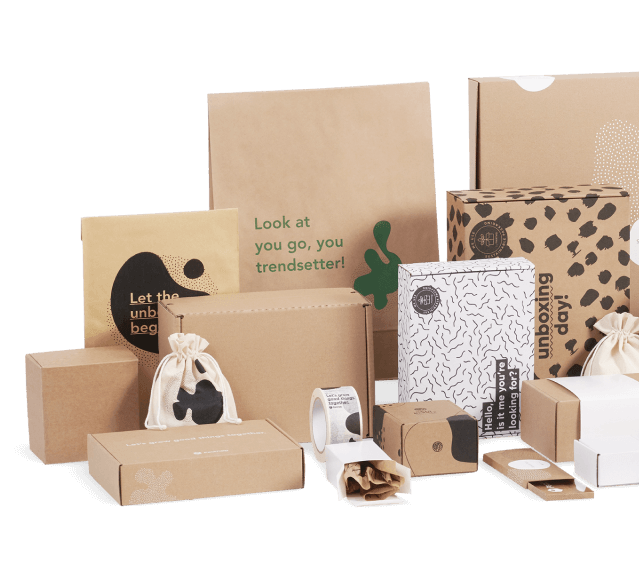 SPECIFICATIONS
Specifications
Material
LDPE foil - 80% recycled / 20% virgin
Material colour
Black
Grammage
0,06 mm +/-15% tolerance
Printing process
Screen printing
FAQ
Are recycled poly mailers fully waterproof?
Yes, they are. Our recycled poly mailers are made from highly durable LDPE foil made of at least 80% recycled plastic. This material is excellent to serve as an additional layer of protection to prevent your box from rain, water and snow.
What can I pack in a recycled poly mailer? 
Recycled poly mailers can be used as an additional packing and a shipping solution on their own. These shipping bags are safe to use as primary packaging for soft goods such as clothes, textiles, bedding, and other homeware fabrics. For more delicate products, we recommend using poly mailers as a branded addition to your shipping process.
Which mailer boxes can I pair with your recycled poly mailers?
Packhelp's recycled poly mailers are designed to fit our range of mailer boxes. Take a look below for exact pairings.
| | | |
| --- | --- | --- |
|  Recycled poly mailer bag |  Dimensions |  Mailer box |
|  Y43 |  17.5 x 25.5 cm |  F23 |
|  Y60 |  25 x 35 cm |  F45 |
|  Y80 |  35 x 45 cm |  F23, F33, F44, F45, F52, F56, F59, F62 |
|  Y90 |  40 x 50 cm |  F23, F33, F44, F45, F52, F56, F59, F62, F65, F71 |
|  Y100 |  45 x 55 cm |  F23, F33, F44, F45, F52, F56, F59, F62, F71, F65, F79 |
Can I print all over the recycled poly mailer?
All of our mailing bags from our poly mailer bags collection have a designated space for printing graphic elements such as logos, visuals & more. This space solely depends on the size of the mailing bag you choose. Each bag you open in our Design Studio showcases the available print space, where you can design away as you like. However, please remember that your graphic design should never cross the lines of the print space on the mock-up, which is marked with two hashed lines displaying the print size in centimetres.
E.g. The design space available for the Y90 recycled poly mailer bag with a size of 40 x 50 cm is 29 x 29 cm. Safe to say, a considerable amount of the Y90 is then available for designing. 
Are there any printing limitations for the recycled poly mailer?
As of yet, we can only offer printing single-colour graphic elements. Unfortunately, complex elements such as photographs, gradients and neon colours cannot be printed due to the foil material and its paint absorption. These limitations occur due to the printing technique and the material used to produce our recyclable mailer bags.
Is the Recycled Poly Mailer matte or glossy?
Depending on the batch of recycled material it's made of, the poly mailer can have a more glossy or matte finish. Consider ordering a sample pack to see what your Poly Mailers will look and feel like.
What are the key differences between Packhelp's mailer bags?
Packhelp's mailer bag collection offers three different types of mailing bags, each with its own properties, printing options & features.
Which option is more sustainable? Bio or recycled? 
Both eco-mailing bags from our collection were engineered to reduce your environmental impact, but the recyclable mailer bag has a one-up regarding sustainability. The biodegradable poly mailer bag is made from a mix of potato and corn starch, is industrially compostable & sourced locally. And while both mailers support a circular economy, the infrastructure for recycling is more popular and widespread than the one for industrial composting. 
How do I dispose of my recycled poly mailers?
Our recycled poly mailers can be identified for recycling purposes under the Mobius Loop symbol & the LDPE 4 code. The centre of the looping arrows of the Mobius loop sign on plastic products will carry a number between 1 and 7. This number denotes the kind of plastic and the appropriate recycling method.
The LDPE is an acronym for Low-Density Polyethylene, a type of recyclable plastic. The more rigid kind of LDPE is simpler to recycle and can be done at home; however, foils and films often become contaminated by the goods they are packing, which creates further problems.
Please recycle this product according to the general guidance of the state/county you're in. You can find more information about this here.
Subscribe for promotions, special offers and news from the packaging industry.
Great!
You're now subscribed!
Australia & Oceania

Belgium

Bulgaria

Canada

Croatia

Denmark

Estonia

Finland

Greece

Hungary

Ireland

Latvia

Lithuania

Luxembourg

Norway

Portugal

Slovakia

Slovenia

My country is not listed