Pre-Printed Kraft Tape
Recyclable kraft packing tape in two ready-made designs. Ready to ship in a click.
Less waiting time
Less waiting time
A ready-made solution shipped to you in a few days.
Plastic-free
Plastic-free
Made from recycled materials & completely plastic-free.
Durable & recyclable
Durable & recyclable
Weatherproof and dust-resistant tape that's 100% recyclable.
ECO PROPERTIES
Available sustainable options:
Locally manufactured in Europe, meaning a lower transportation footprint compared to goods produced and imported from abroad.
Contains no petroleum-based plastics.
Can be broken down and used as a new material.
Ready-made, ready to go
No need to wait for production or waste time/money on design. One click and your tape will be shipped out to you within a few days. Choose from two ready-made prints, designed by experts and complete with all the labels you need. Happy shipping!
Buy now
Less pain, more eco gain
Recycling? Easy. Your customer can recycle your boxes with the tape left on. The tape is 100% recyclable! That's a win-win for you, your customer and the planet.
Buy now
Reviews
See what our customers say
Sample packs
Sample packs
Try before you buy. Select up to 5 samples and test different types of packaging, materials and sizes. Order a sample pack and get your money back with your first order.
Order now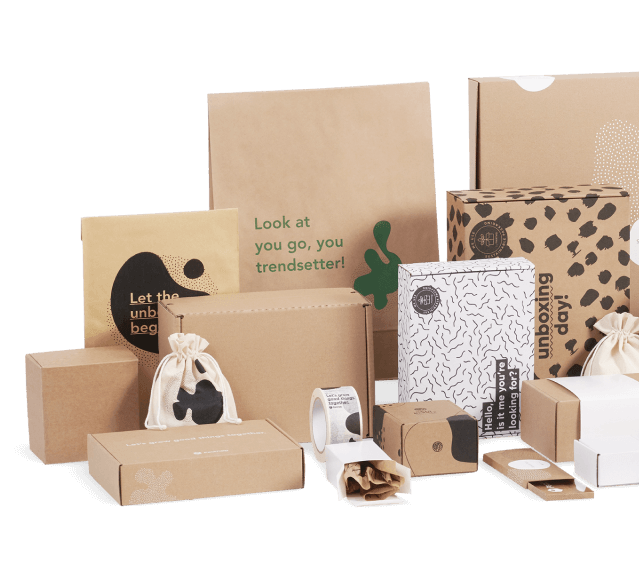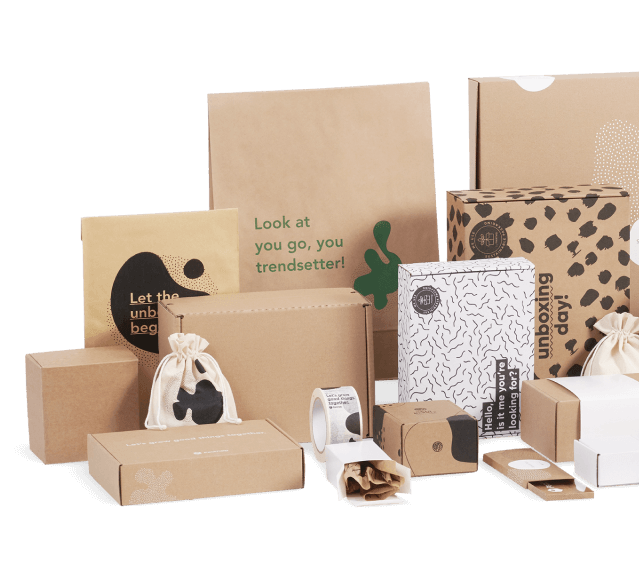 SPECIFICATIONS
Specifications
Material colour
Natural Kraft
Tape gun size
48-50mm wide, 75mm core
Adhesive type
Hot Melt (synthetic rubber)
Temperature tolerance
-10°C to +45ºC
Print colour
Pantone White
FAQ
Does this tape also come in white?
No, not in this case. Our pre-printed tape is only available in Natural Kraft, and it comes with a choice of White or Natural Kraft, along with other extra features. Just keep in mind that the minimum order quantity is 5500 rolls.
Can I design my own tape?
Yes and no. This pre-printed tape is only available in two ready-made designs. But with our customizable Kraft Tape, you can design your own prints with our super easy Online Editor.
What tape gun does this tape fit?
This tape fits all standard 50mm wide tape guns. To be precise, that's a tape gun with a 48-50mm width and 75mm core.
How much does one roll weigh?
Each roll weighs 212 grams.
What glue is used?
The tape is coated with a hot melt glue, which is a synthetic rubber glue. This glue provides a firm and durable bond. It's moisture-resistant and weatherproof, so your packaging will be held securely together during delivery.
What is the minimum order quantity?
You can order your Pre-Printed Kraft Tape from as few as 4 rolls per order.
Why can't I order 50 rolls?
That's because the tape comes in multiples of 4. In other words, you can order either 4, 8, 12, 16, 20, 24, 28, 32, 36, 72, 108, 144, 180, 216 or 540, 720, 1080, 2592, or 5148 rolls per order.
What is the maximum order quantity?
The maximum order quantity is 5148 – you won't run out of tape for quite a while. 
How long does it take for my tape to be shipped?
Not long at all. Your tape will be shipped out to you within a few working days.
Subscribe for promotions, special offers and news from the packaging industry.
Great!
You're now subscribed!
Australia & Oceania

Belgium

Bulgaria

Canada

Croatia

Denmark

Estonia

Finland

Greece

Hungary

Ireland

Latvia

Lithuania

Luxembourg

Norway

Portugal

Slovakia

Slovenia

My country is not listed